Por azares del destino tuve un primer contacto con la Raspberry PI, de hecho yo quería comprarme una, pero no la había encontrado disponible, y de repente se me aparece una en las manos.
Características
Primero, ¿Qué es una Raspberry PI?
De la página de raspberrypi.org:
The Raspberry Pi is a credit-card sized computer that plugs into your TV and a keyboard. It's a capable little PC which can be used for many of the things that your desktop PC does, like spreadsheets, word-processing and games. It also plays high-definition video. We want to see it being used by kids all over the world to learn programming.
¿Qué SoC (System on chip) se usa?
The SoC is a Broadcom BCM2835. This contains an ARM1176JZFS, with floating point, running at 700Mhz, and a Videocore 4 GPU. The GPU is capable of BluRay quality playback, using H.264 at 40MBits/s. It has a fast 3D core accessed using the supplied OpenGL ES2.0 and OpenVG libraries.
¿Qué tan poderoso es?
The GPU provides Open GL ES 2.0, hardware-accelerated OpenVG, and 1080p30 H.264 high-profile decode.

The GPU is capable of 1Gpixel/s, 1.5Gtexel/s or 24 GFLOPs of general purpose compute and features a bunch of texture filtering and DMA infrastructure.

That is, graphics capabilities are roughly equivalent to Xbox 1 level of performance. Overall real world performance is something like a 300MHz Pentium 2, only with much, much swankier graphics.
Además
512MB RAM
Arranca desde una SD card, corriendo una distribución de Linux
10/100 BaseT Ethernet socket
Tiene GPIO (General purpose input/output). Son unos pines para poder programarlos y que interactúen con otros dispositivos, sensores por ejemplo.
Conectando y arrancando la Raspberry PI
Lista de dispositivos y cables.
Obvio una Raspberry PI
SD card con distribución de Linux para RPI (esta ya venía incluída)
Teclado y mouse usb
Cable de red
Cable hdmi
Cable de USB a micro USB
Macbook para compartir internet
Prueba
En mi caso, yo sólo lo quería echar a andar, ya venía con una SD card con la distribución de linux de Raspberry precargada, por lo que me tuve que saltar el paso de cargarsela, todo fue más simple. El mouse y teclado usb que encontré lo tenía guardado entre las cosas viejas que tenía, en las fotos verán que están todavía con polvo.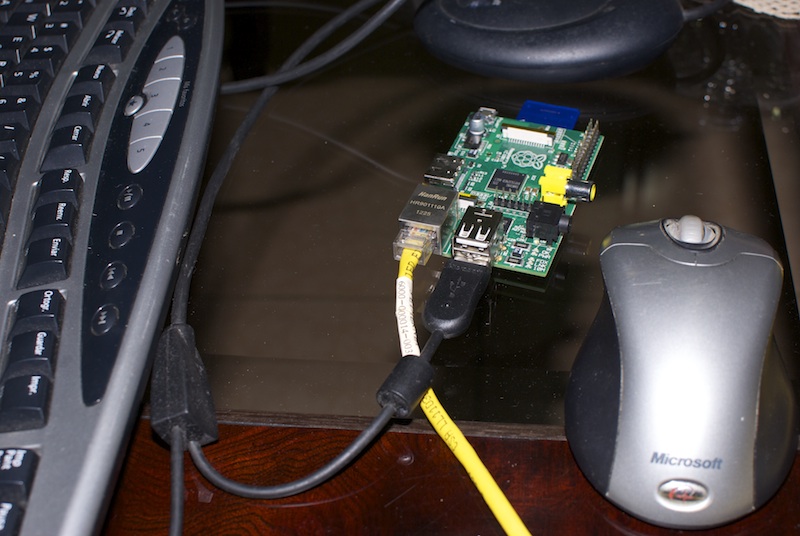 La alimentación y la red se la proporcioné desde la macbook, por usb y compartiendo la red inalámbrica.
Por medio de hdmi conecté la TV de la sala para poder ver la salida, y así se ve cuando está iniciando la raspberry.
La primera vez que arranca aparece un menú para configurar ciertas cosas, a ese menú no le tomé foto pero de las cosas que puedes configurar es, el layout de tu teclado, habilitar o deshabilitar el arranque de servidor de ssh, el password de usuario pi, etc. Después de configurar la Raspberry se reinició.
Luego me apareció el login (el usuario es pi y el password por default es raspberry) y a lo que inmediatamente después vi el espacio libre de la SD.
Inicialmente la compartición de la red no la configuré bien, por lo que no tenía salida a internet.
Una vez que configuré bien la compartición de internet en la macbook, lo que hice en la consola de la raspberry fue correr el comando.
Con este comando adquirió una IP dinámica del servidor de DHCP que se tiene corriendo en la macbook para compartir internet.
Una vez hecho esto, ya pude navegar.
Final
Es impresionante lo que han hecho los de Raspberry, tener una computadora de ese tamaño capaz de reproducir video con calidad de blueray y además de poder ejecutar juegos que requieran de alto desempeño gráfico, y por un precio bajo.
La otra parte interesante es para poder progamarla e interfazarla con dispositivos externos o bien como para enseñar a niños a usar y a programar una computadora, ahora si no creo que haya tanto problema cuando nos digan "tu hijo tiró la computadora, y luego la metio al agua".
LINKS